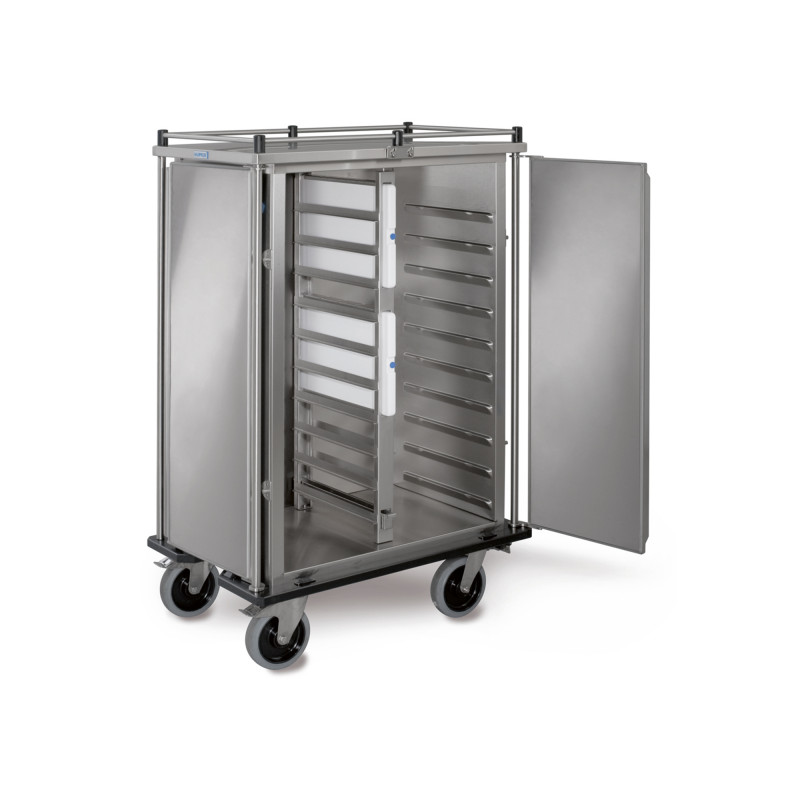 Tray transport cart with passive cooling
TTW/M 2/20 EN-115-L PK
Product code:
0162950
Tray transport trolley for storing meal components on Euronorm trays.
Key facts
For EN trays

Lengthwise insertion

Pitch: 115 mm
Delivery time: on request
Trolley made entirely of high-quality stainless steel, self-supporting design. Double-walled tray...
more
Product information
Trolley made entirely of high-quality stainless steel, self-supporting design. Double-walled tray transport trolley in modular design, closed on all sides: Rear and side panels as well as top of trolley, double-wing doors, push bars and bumper strips can be replaced; wall and doors thermally insulated CFC-free. Interior with two partitionments for 10 EN trays each, for lengthwise insertion. Side panels with seamless deep-drawn shelf beads as tray shelves at height intervals of 4.53'' (115 mm), with additional stamped tilt protections. Middle panel removable without tools, with removable condensate collection pan, for holding eutectic cooling plates. Long-lasting cooling process with well-frozen cooling plates through free convection. Double-walled double-wing doors, can be opened by 270° using continuous vertical handle bar, automatic closing mechanism, operation with one hand. Additional lock through integrated 2-point locking. Four continuous vertical push bars (2 on each side) for manoeuvring even with the doors open. Dimensionally stable chassis design, suitable for delivery transport. In addition, the use in automatic trolley transport is possible. Bumper protective feature provided by two robust continuous bumper strips at the chassis, effective also when doors are open. Trolley runs on 2 swivel casters with total lock, 2 fixed casters, fastened by means of screw-on plates and four screws.
The Hupfer tray transport trolley TTW / M 2 / 20 EN 115-L PK is available on request with fixed shelf heights of 105 mm without an anti-tipping mechanism, and has the lowest empty weight and the lowest space requirements in comparison to other products, while the four vertical push bars ensure effortless handling for persons of any size. Fixed castors in indentations well below the chassis ensure outstanding manoeuvrability and the option of turning the trolley on the spot. The self-contained cooling process does not stop even when the doors are open.
Technical information
| | |
| --- | --- |
| Weight: | 119 kg |
| Width: | 1049 mm |
| Depth: | 691 mm |
| Height: | 1566 mm |